BOXWAY News | Pay close attention to the implementation of the responsibility to maintain security and safety. Bailiwei welcomes the security inspection of Daxing District Government
---
In order to maintain the stability of the safety production situation during the 19th National Congress, on the morning of October 23, 2017, He Rui, the executive deputy head of Daxing District, and Qiu Hui, deputy director of Daxing District Government Office, and the party secretary of the Management Committee of Jingnan Logistics Base in Daxing District Director Liu Xueyong and his entourage came to the Bailiwei (Beijing) e-commerce park for safety production inspection. Chen Bin, deputy manager of Beijing Bailiwei Public Affairs Department, accompanied the inspection and made a work report.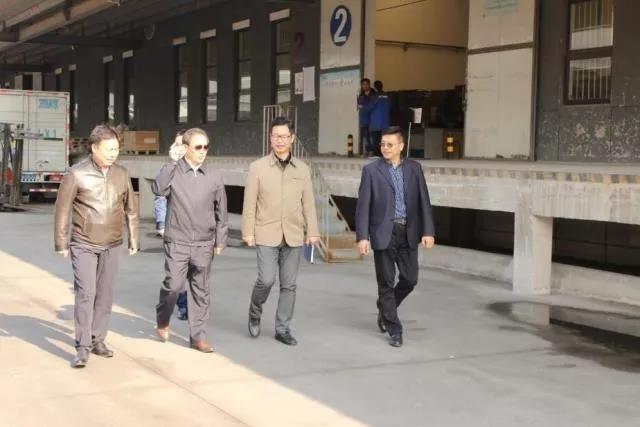 Vice Minister He Rui inquired in detail about the deployment of Bailiwei's safety precautions and employee safety training, and pointed out: "Safe work is more important than Taishan. It is necessary to do a good job in safety training before the employees go to work, and at the same time, to ensure that the positions are strictly certified. When you are on the job, you must really do a good job in the supervision and implementation of safety production. Like brushing your teeth and washing your feet every day, you will develop a good safety awareness and safe operation habits."
In combination with the requirements of Beijing's environmental protection work, the ETCP intelligent parking system in the Bailiwei e-commerce park can automatically reject environmentally unqualified vehicles and also help the logistics companies to track the vehicles, enter and leave the park, and the park through the open platform. Internal dispatching is supervised; in the construction of fire-fighting facilities, the fire-spraying and intelligent linkage fire-fighting facilities are designed in the Bailiweiku District. In the same period of the construction of the warehouse, it was the earliest park to install the facility. The park is also equipped with fire protection. Cars and fire militia, and regular fire drills. Deputy Director He Rui listened carefully to the introduction of the construction of the reservoir area, the construction of fire safety facilities, the management of the warehouse, and the management of environmental protection. He highly praised the safety management of the Bailiwei Reservoir and hoped that Bailiwei would be the focus of Daxing District. Enterprises must make persistent efforts and keep moving forward to achieve even better results.